Introduction To WordPress: WordPress is an open-source content management system licensed under GPLv2, which allows you to create a stunningly professional-looking website. The best part is it is free of cost. More than 34% of the websites are built and created using WordPress. So, What is WordPress? We will learn in this introduction to WordPress blogs. It is a most popular system developed by both a group of lead developers and a community composed entirely of volunteers. WordPress is the best solution for creativeness because; it also has a vast number of designs and layouts suitable for creative users. It can make your site distinctive.
You also have complete control over your website. Whenever you want, you can customize and make changes to let your site be updated all the time. It also features plugins that add complete eCommerce functionality to a site, from product display to shopping cart and checkouts.
What is a WordPress website?
As you have read above in Introduction To WordPress. WordPress is a free and open-source content management system. It is a highly flexible platform where you can create all kinds of websites. You can create a website for blogs, portfolios, business websites, charity websites, online stores, etc.
In a nutshell, setting up a WordPress site needs the following steps:
Install WordPress on your web host.
Choose a design theme you want to use.
Customize the site and add your content.
Features of WordPress
WordPress is a content management system that is loaded with features. In the following, we will see the most important ones.
Easy to use: The most important feature of WordPress is that you can create a dynamic website, whether or not you lack programming and design knowledge.
Themes: WordPress is theme-based, which provides you options for various stunning open-source and Responsive WordPress themes, which can be integrated easily with or without any designing knowledge.
Plugins: Plugins extend the functionality of WordPress, which can be used to add new required functions.
SEO friendly: WordPress sites are search engine optimized. It means you can easily optimize your site for search engine listings.
Multilingual: WordPress is Multilingual, allowing users to translate content in their desired language.
Inbuilt Media Management system: WordPress has an inbuilt Media Management System, which manages images, documents, music, etc., and can be used with text content.
In addition to an introduction to WordPress, let's explore why someone would choose WordPress? Here are some of its advantages.
Advantages of WordPress
Word press is free of cost. It is an open-source content management system
Design and theme customization in WordPress is straight and simple.
It grants the user different permissions.
Installing and using WordPress and fast and easy to use.
WordPress has thousands of themes available.
Adding your content is fast and straightforward. It is easy to create a new post, page, etc.
WordPress allows our website to run smoothly without any issues with new updates.
There is an allowance of adding different plugins which help you customize your site as per your needs.
If you get stuck anywhere, the WordPress help team will help you whenever you need them.
There are two versions of WordPress
Self-hosted WordPress (WordPress.org) that you install on your website.
WordPress.com –the version that is hosted for you.
Self-hosted WordPress is the version that allows absolute flexibility to host your website in terms of the design you choose and plugins required for the website. Your content will be hosted by your own company rather than by WordPress. In self-hosted WordPress, the technical aspect is entirely your responsibility, from installing to maintaining your website.
Though for some users, WordPress.com would be ideal as it is quick to set up, and you will also get instant website traffic from the WordPress.com community itself. WordPress.com takes care of every aspect, from hosting the site for you to providing features for managing the content. If you plan to sell some goods, Self-hosted will be a better option for you.
For your better understanding, let us compare and see the difference between wordpress.com and wordpress.org.
WordPress.com VS WordPress.org
| | |
| --- | --- |
| WordPress.com | WordPress.org |
| It asks you to sign up for an account or create a website or blog. | It requires a different web hosting account to run a WordPress site. |
| You get basic website functionality for free but need to pay for professional site development. | It helps create a website for free, and it is open-source for further modifications. |
| It doesn't allow for other plugin uploads. | You can upload additional plugins to extend the functionality. |
| Free plans would be a sub-domain here. | You can use your URL here. |
WordPress.com VS WordPress.org
Pros and cons of WordPress.com and WordPress.org
WordPress.com and WordPress.org are two different platforms, and users get easily confused between both and often make the wrong choice for their website. Let's take a look at each forum individually.
WordPress.com
WordPress.com is a hosting service created by the WordPress co-founder, Matt Mullenweg. Because of the same founder, the user often gets confused with WordPress.com with the popular WordPress.org software.
Pros
It gives 3GB of space free. If your site has more significant content and you need more space than it provides with a paid plan for more storage space
It takes care of updates and backups so that you need not worry about that part of your site.
Cons
WordPress.com places ads on all the free websites. Users or visitors to your site don't like the ads and can bounce back, increasing bounce rates which is not a good sign for your website to rank better on search engines.
You cannot sell ads on your website, limiting ways to monetize your site.
You cannot add additional plugins.
Custom themes cannot be uploaded. Free plan users can only install from the limited free theme collection of WordPress.com.
Free WordPress.com sites come with a WordPress.com branded subdomain (e.g., https://yourwebsitename.wordpress.com). You'll need a paid plan to get your custom domain name (e.g., https://www.yourwebsitename.com).
WordPress can delete your site if they think that it violates their terms of service.
Your site will display a 'powered by WordPress.com' link. You can remove it by upgrading it into a business plan.
WordPress.org
WordPress.org is a popular website platform. It is open-source software, and it's 100% free for anyone to use. It would be best to have a domain name and web hosting service provider. This is the reason that it is also said as self-hosted WordPress.
Let us quickly dive into the pros and cons of using self-hosted WordPress.org.
Pros
The WordPress software is free of cost, open-source softer, and super easy to use. WordPress is used by over 43% of websites present today on the internet.
You own your website and all its data. Your site will not get deleted because someone else decides that it is against their terms of service (as long as you are not doing something illegal).
You can add various custom WordPress plugins to your website.
Add any WordPress theme that you want.
You can make money from your WordPress website by administrating your ads without giving any revenue to anyone.
You can create an online store to sell digital or physical products, accept payments, and deliver/ship the goods directly from your website.
Cons
Like all websites, you will need web hosting, where your website files are stored on the internet. It is like booking a spot on the internet land.
You will need to install WordPress.
You are responsible for updates. It's not too much work because you can easily update your WordPress site by clicking on the update button.
You are responsible for backups. But, numerous WordPress backup plugins let you set up automatic backups.
Which one to use?
For your better understanding of the differences between WordPress.com and WordPress.org, renting a house vs. owning a house is the analogy.
WordPress.com is similar to renting a house. You have limited power and control over what you can and cannot do.
WordPress.org is like owning a house. No one can throw you out where you have complete control, and you can do anything you want.
Introduction to WordPress themes and templates
Introduction to WordPress themes: WordPress themes are the skin of your website. They're the folder of files that work together to make the format of your site. In other words, they're just like the vital organs that coordinate and work together to survive a living body. Themes give you a layout of how your website will appear.
As a fresh WordPress user, you'll be excited to go further with your website and customize it according to your mental picture. But, if you lack design and coding knowledge, this might be a daunting task for you.
You need not worry because WordPress has the most well-liked themes. WordPress offers many premia and free WordPress themes. Themes are the main inherent and valuable features of WordPress; they permit users to customize their site according to their convenience and incorporate additional functionality. In fact, with the correct theme, you'll be able to customize your site to your exact specifications whether or not you lack coding and style knowledge. Now that you have read the introduction to WordPress and the introduction to WordPress themes and templates, let's look at some of the best WordPress themes you can use.
1. Wildlife Zoo WordPress Theme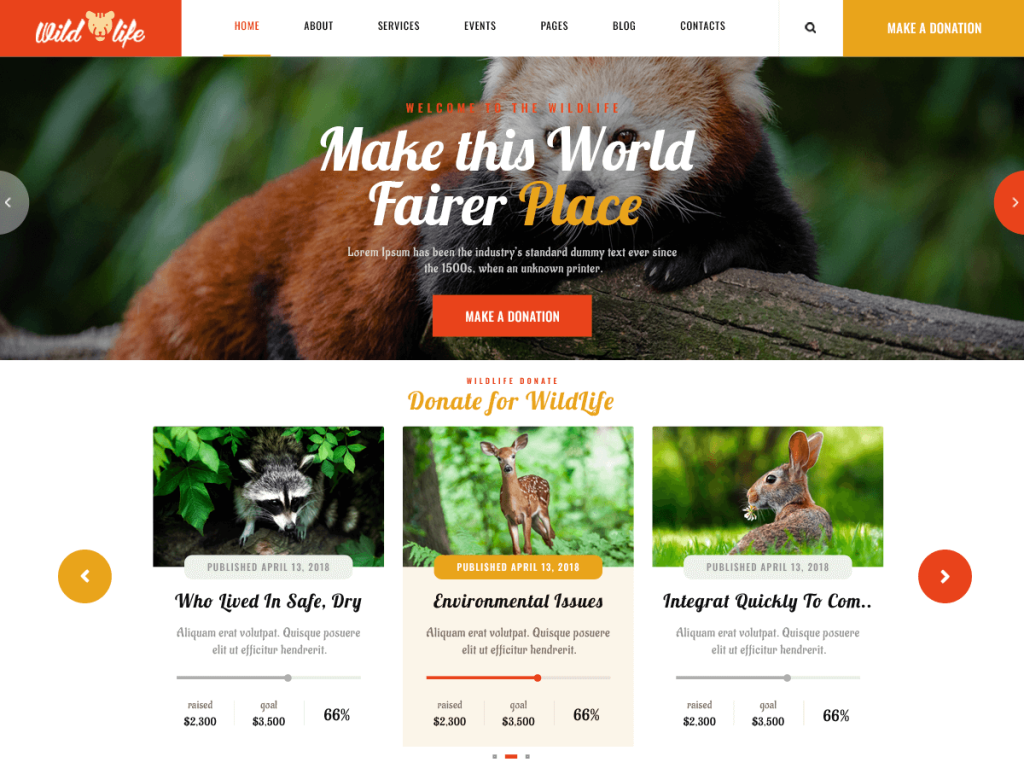 Wildlife zoo theme is the absolute best WordPress theme for the zoos and wildlife to document and showcase their organization. This theme will also attract animal lovers to surf your site and visit your zoo. Suppose you are a wildlife blogger, a zoo owner, or you have a wildlife park and want to achieve a larger audience. In that case, applying this WordPress theme is a commendable idea. It enables you to pick the best style and design and ultimately control the style you want. You can say it is highly customizable. It consists of a full-width slider that displays beautiful wildlife pictures to engross the visitors. The theme gives complete control to the site owner so they can customize the layout of their vision. The user can entirely rely on this theme without worrying about the coding.
Key Features:
Plugin compatibility: It supports the popular plugins that help you customize the site.
Easy install: Setting up your website takes less than 10 minutes.
Documentation: well-organized documentation of the pictures and other stuff.
2. Tabib medical pro theme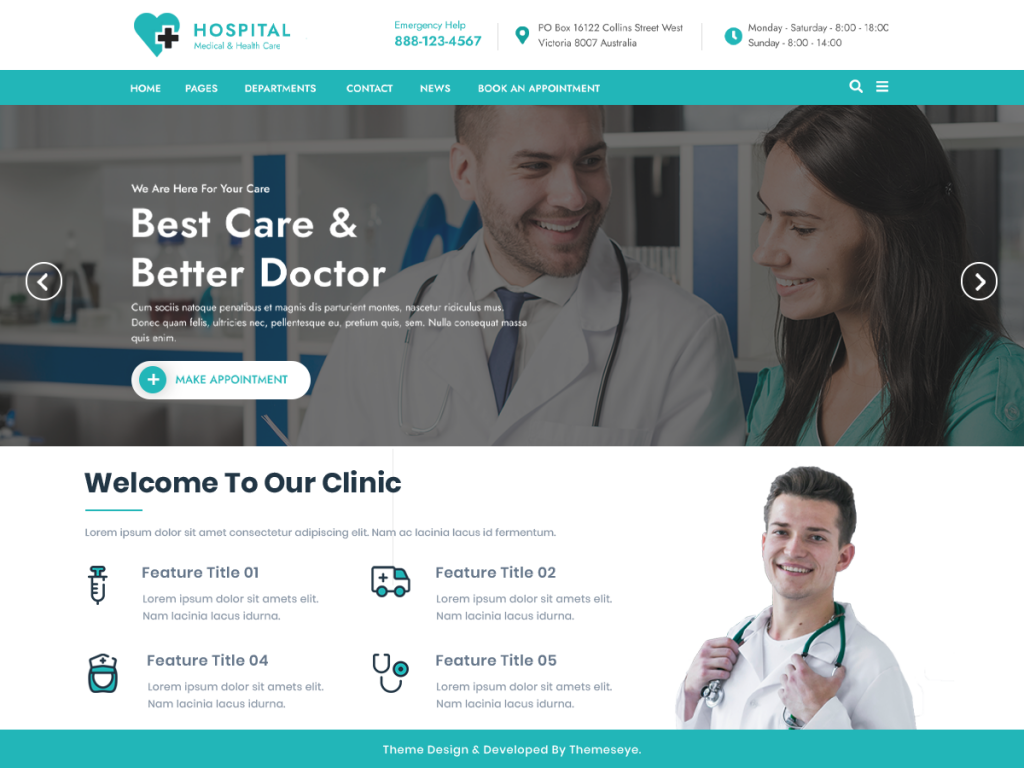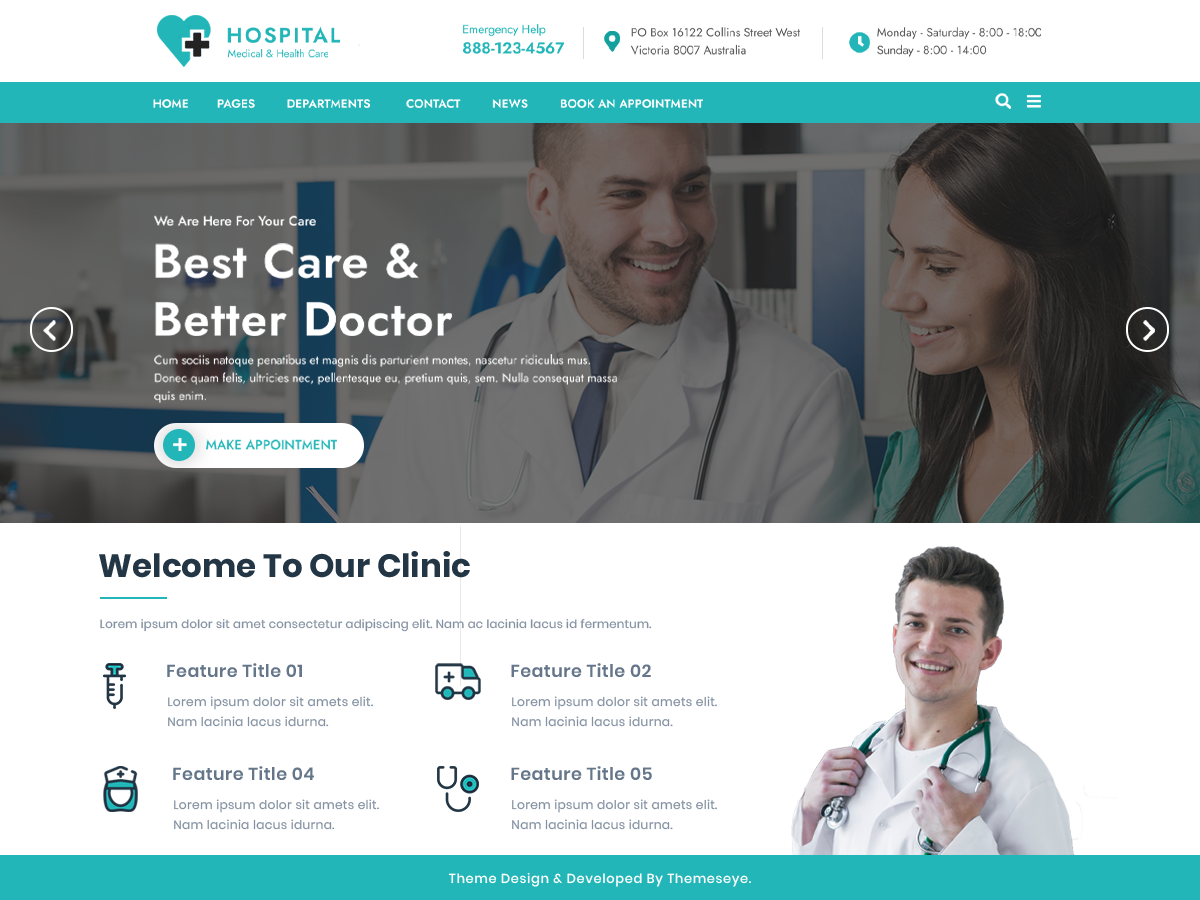 Hospital WordPress Theme is a uniquely designed WordPress theme to create websites for hospitals, clinics, doctors, healthcare, pharmacy, dentist, ambulance, hospital listing, medical directory, laboratories, nursing home, weight loss clinic, and health and medical websites. You can also use this theme to spread awareness about virus outbreaks, global health, and medical training institutes. It has the support of WooCommerce and also for many WordPress plugins.
With this theme, you can set up an eCommerce store and sell medicines, cosmetics, and pharmaceuticals through your website. It comes with a page-builder which makes your vision of creating pages easier. The theme is multilingual. Moreover, you can translate into various languages. It is SEO-friendly which makes your website rank better on search engines like google. It is entirely responsive and appears beautiful on any device. You can generate and add shortcodes to create stunning pages. Moreover, the theme comes with over 25+ different page layouts.
Key Features:
CTA button: call to action buttons allows users to click on the hyperlinks and take the services provided. For example, the "sign-up" option.
Support team: the theme provides 24/7 support to its users in any difficulty.
Translation: it provides translation to your content in different languages.
3. Nursery WordPress Theme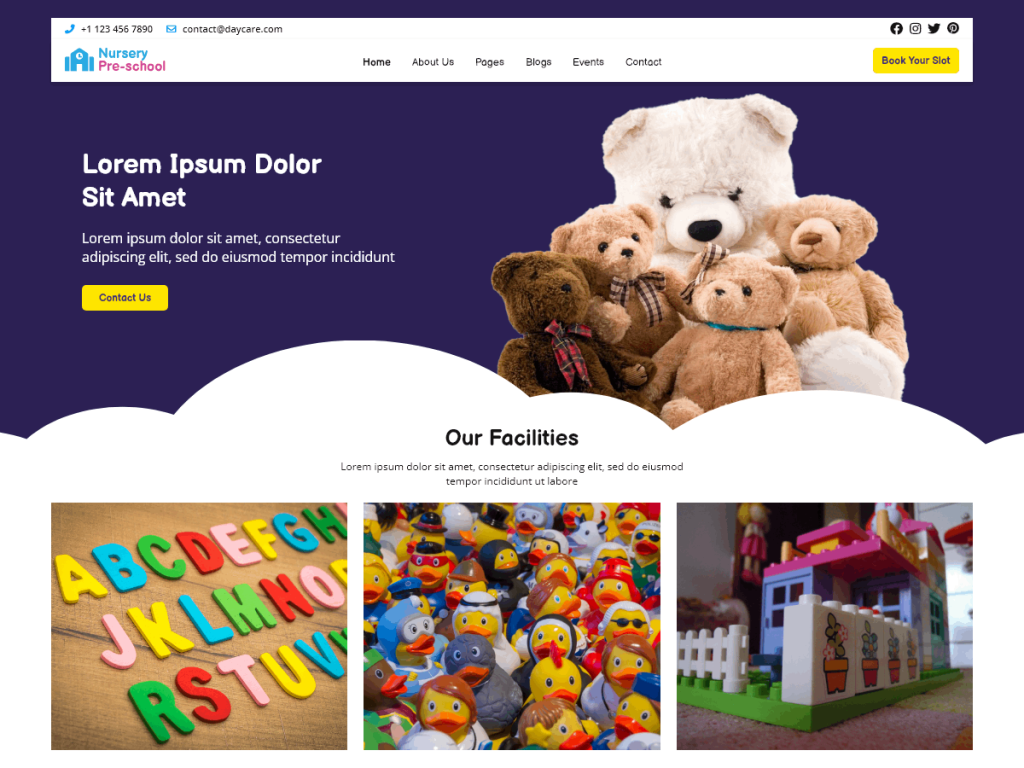 Do you know what attracts a child's eye? The answer to this is vibrant colors. To grab the visitors' attention, you need to focus on a bright and bubbly color design suited for early learning preschool websites and Kindergarten centers. This best WordPress theme, i.e., Nursery WordPress theme has a beautiful and responsive design created especially for infant education, daycare centers, kid's academics, children toy stores, music learning schools for children, nurseries, etc. Its professional appeal will give your site a mesmerizing look that will hold the users' attention.
Children don't have patience; keeping that in mind, these best WordPress themes have optimized codes that help the website load faster. Also, these themes come in WordPress bundles which will help you sell your product online and generate more revenue out of your business. Easy customization of the theme will facilitate you to implement the desired changes to set your bar high.
Key Features:
Theme customization: Highly customizable with easy to use plugins
Appealing design: attractive theme with bubbly colors that cater to the visitor's attention.
Mobile friendly: loads faster on mobile devices.
4. Traveller WordPress theme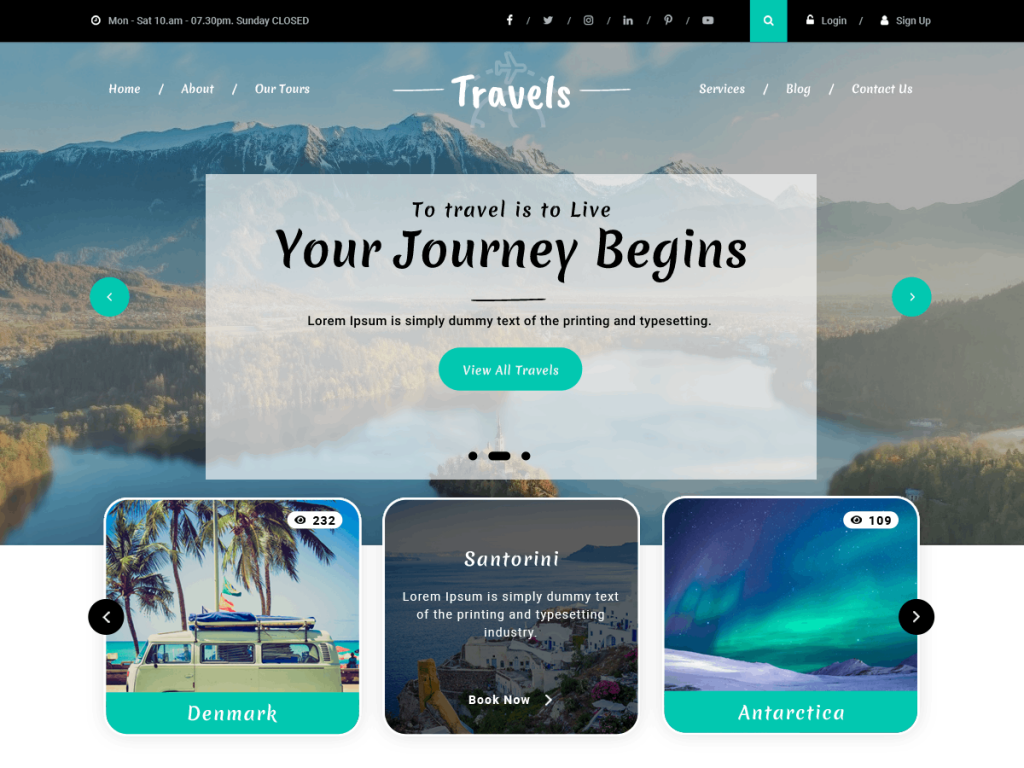 Suppose you are a travel freak. Your goal is to build a professional, visually appealing website for your tours and travels business. In that case, this unique WordPress theme will let you achieve your goals with its Traveller WordPress theme. It is not just a theme but a Booking Engine, designed for a travel website, Marketplace, Travel Agencies, Tour Operators, Activity/Event, Hotel Booking, Room Bookings, Villa Rental, Resort Rental, etc. It has a fully customizable booking form that you can customize as per your business. The theme makes your life easier by giving readymade demos and pre-built content. This theme is top class in terms of its looks as well as in its features. Its Drag and Drop editor facilitates easily customized page building without touching even a single line of code. You can add shortcodes which will help to add more content elements to your website.
Key Features:
Theme customization: Highly customizable with easy to use plugins
Appealing design: attractive theme with bubbly colors that cater to the visitor's attention.
Mobile friendly: loads faster on mobile devices.
Conclusion
With this, we conclude our introduction to WordPress blogs. It was such a pleasure to talk about WordPress and the best WordPress themes. You will get the best results with WordPress if you use it correctly and know from the two versions (wordpress.com and wordpress.org) which one would be best for your website. Both versions have their pros and cons. It is up to you which one you will choose. WordPress depends on your needs if you require a flexible and adaptable platform for your website.
WordPress is an incredibly versatile website platform that permits users to make all kinds of websites. It is a great tool for starting a blog, building an online portfolio, creating a video tutorial, and creating a business website. It comes with many great themes. Furthermore, a WP theme bundle offers new and premium themes. WordPress is ideal for beginners as it's easier than coding a site from scratch.